Helen Moretti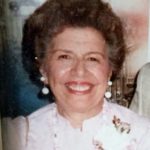 BELOVED MOTHER & GRANDMOTHER, FORMER BLOOMFIELD LIBRARIAN
Helen (nee Foti) Moretti, 94, of Toms River, N.J. passed away peacefully surrounded by family on Friday, Sept. 28.
Beloved wife of Michael G. for 68 years, mother to Michael A. Moretti of Neptune, Patricia Del Vecchio of Verona and Anthony Moretti of Little Falls, she was loving grandmother to Christopher Del Vecchio of Verona, Paul Moretti and Dana Moretti, both of Glen Ridge, and Nicholas Del Vecchio of Verona.
She is also survived by her sister Millie Dandi of Bloomfield, her brother Gene Foti of Bloomfield and her sister-in-laws Frances Foti of Brick, Lucy Foti of Bloomfield and Lonnie Reichelt of Toms River and many nieces, nephews and cousins.
She was predeceased by her brother, Joseph Foti of Newark and her parents Alessandra (Josephine nee Citrangelo) and Antonio Foti of Newark, both of whom emigrated from Italy and set up a luncheonette in the Ironbound section of Newark.
Helen was a graduate of East Side High School in Newark and shortly thereafter worked for the U.S. Department of the Navy in Newark during World War II. She met her husband, Mike, a Navy veteran, in 1947 and they married in 1948. They were married for 68 years until his passing at age 89 in 2016.
She was also very proud of her time spent as an assistant librarian for 15 years at the Bloomfield Public Library.
Full of energy, fun and love, the happiest times of her life were in raising her children and in playing host to numerous extended family functions at the home in Bloomfield where the Morettis lived from 1961 through 1992.
Her enjoyment included reading newspapers, magazines and books, never missing a birthday or anniversary, watching black-and-white movies on television, and her family most of all.
A Mass of Remembrance will take place at St. Valentine's Church, 125 North Spring St., Bloomfield, at 10 a.m. on Saturday, Oct. 6.
Interment will take place Friday, Oct. 12, at her final resting place alongside her husband, Mike, at Brigadier General William C. Doyle Memorial Cemetery in Wrightstown.